Decode all URL and HTML encoded text
English (us) ⁄ Nederlands ⁄ Deutsch ⁄ Español ⁄ Français ⁄ Português do Brasil ⁄ Italiano ⁄ Русский ⁄ 中文(简体) ⁄ 日本語
Web › 3. Decode all URL and HTML encoded text
This utility decodes all URL-encoded text in your selected cells.

This can be useful when you use Excel for example to analyze reports with website statistics or keyword performances.
The utility will replace the "+" character with a space and it decodes any %## encoded character in the cells.
It will also decode named HTML entities such as   and € and it will decode a string of text such as %c3%84 and %c3%a7 and unicode characters such as © and ".

This utility will for example decode the text "http%3A%2F%2Fwww%2Emicrosoft%2Ecom" to "http://www.microsoft.com", which is more readable.

URL encoding is used when text is place in a query string in the URL to avoid that it gets mixed up with the address of the website and it is usually placed behind a question mark (?) in the address. This technique is often used when the internet browser sends data via a form on the website to the web server.
The cells in your selection with formulas are skipped.
Screenshots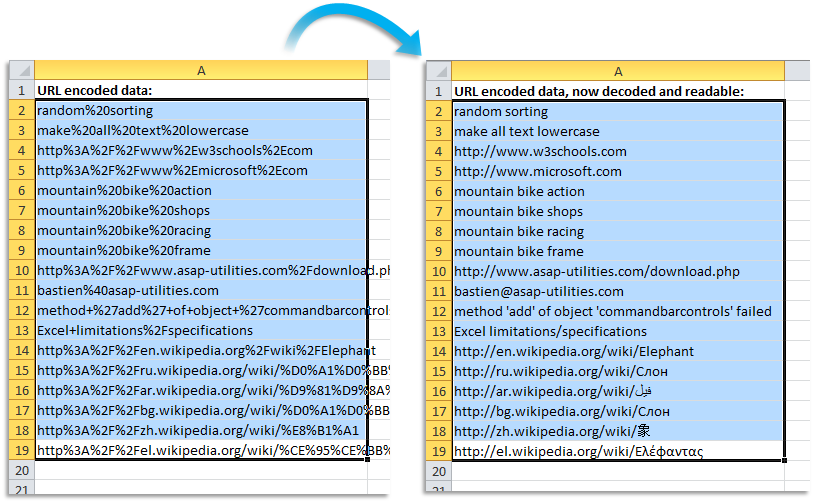 Starting this tool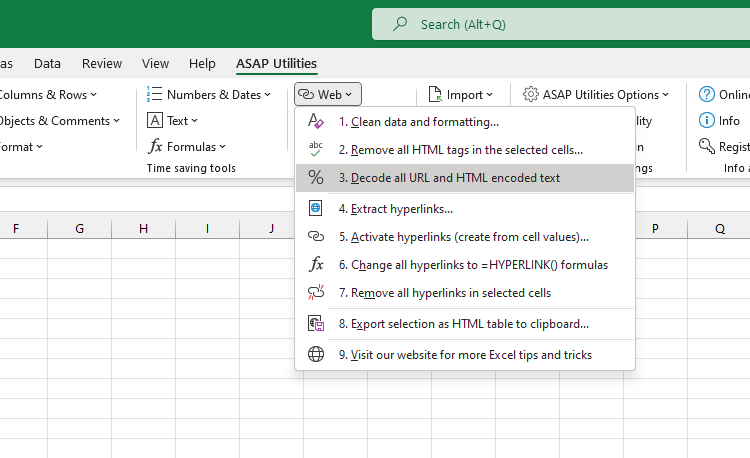 Additional keywords for this tool:
urldecode, excel php alternative, decode string, decode website address, percent-encoding, uri, Internationalized Resource Identifier, Uniform Resource Locator (URL), decode google analytics search keywords, urlencoded, hyperlink, convert html encoded characters