Транспонировать данные с формулами...
English (us) ⁄ Nederlands ⁄ Deutsch ⁄ Español ⁄ Français ⁄ Português do Brasil ⁄ Italiano ⁄ Русский ⁄ 中文(简体) ⁄ 日本語

Диапазон › Транспонировать данные с формулами...
С помощью этой утилиты можно переместить данные и сохранить ссылки на ячейки.
В отличие от стандартных методов Excel, которые при перемещении данных изменяют ссылки на ячейки, эта утилита никак не влияет на ссылки на ячейки в формулах.
Снимки экрана (example from the English version)
Пример снимка экрана: 1 Before

Пример снимка экрана: 2 The result, all cell references have been preserved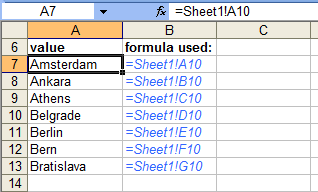 Запуск этой утилиты
Выберите в меню Excel:
ASAP Utilities › Диапазон › Транспонировать данные с формулами...