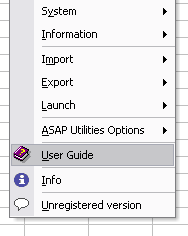 I have just released a third preview-version of the new version of ASAP Utilities.

This version is improved in several ways.
Furthermore the User Guide is now included in the setup and accessible from within the ASAP Utilities menu. I hope this way more people will be aware of the User Guide and spend some time reading it to get more benefit out of ASAP Utilities.

I have also updated the setup with an option to immediately start Excel when the setup is finished:


This new version will probably officially be released as a new version at the beginning of July.
More information and download via the Support FAQ:
Known bugs in version 4.1.1 / pre-release version 4.1.2