Weergave Centrum...
English (us) ⁄ Nederlands ⁄ Deutsch ⁄ Español ⁄ Français ⁄ Português do Brasil ⁄ Italiano ⁄ Русский ⁄ 中文(简体) ⁄ 日本語

Weergave Centrum...
Snel navigeren door uw werkbladen en wijzigen hoe zij worden weergegeven.
Deze tool toont u meteen het resultaat van uw wijzigingen, bijvoorbeeld indien u de rasterlijnen uitzet dan ziet u het effect meteen.

Werkblad instellingen:

Rasterlijnen

Pagina-einden

Rij- en kolomkoppen

Nulwaarden

Formules

Overzichtsknoppen

Vergroting, u kunt via een schuifbalk het zoom percentage instellen. Tijdens het schuiven ziet u meteen het resultaat van de vergroting.
U kunt snel de instellingen van het geselecteerde werkblad toepassen op alle werkbladen in uw werkmap.

Werkmap instellingen:

Bladtabs

Horizontale schuifbalk

Verticale schuifbalk

Verwijzingstype: A1 of R1C1

Tonen objecten: alles weergeven, tijdelijke aanduidingen of alles verbergen

Weergave instellingen voor Excel op programma niveau:

Formulebalk

Statusbalk

Werkbalken

Volledig scherm

Tonen opmerkingen: geen, alleen opmerkingaanwijzer, opmerking & aanwijzer

Met deze tool kunt u ook:

Bladeren door alle geopende werkmappen.

Bladeren door alle werkbladen in uw werkmap en snel de instellingen per blad zien.

Snel de manier wijzigen waarop uw werkblad, werkmap of Excel wordt weergegeven.

De selectie beperkingen in alle werkbladen verwijderen.

De standaard map instellen op het pad van de geselecteerde werkmap. Dit zorgt ervoor dat de dialoogvensters voor het opslaan en openen van bestanden starten in deze map wanneer u ze de volgende keer gebruikt.

Reset statusbar. Handig wanneer de statusbalk vast zit met een bepaalde tekst, bijvoorbeeld door een macro die niet goed is beëindigd.

Terugzetten naar standaard programma instellingen. Dit zal de statusbalk resetten, de berekening op handmatig zetten, weergave meldingen inschakelen (Application.DisplayAlerts = True), de cursor op de standaard waarde zetten en alle werkbalken beschikbaar maken.

Standaard kunt u deze tool starten met de sneltoets Control+Shift+I.
Screenshots
Voorbeeld screenshot: 1 Instellingen huidige werkmap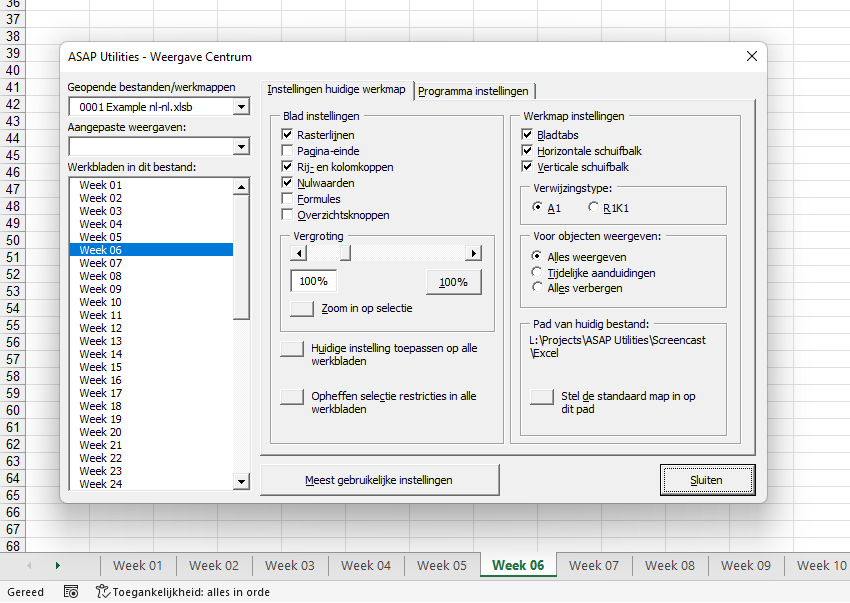 Voorbeeld screenshot: 2 Programma instellingen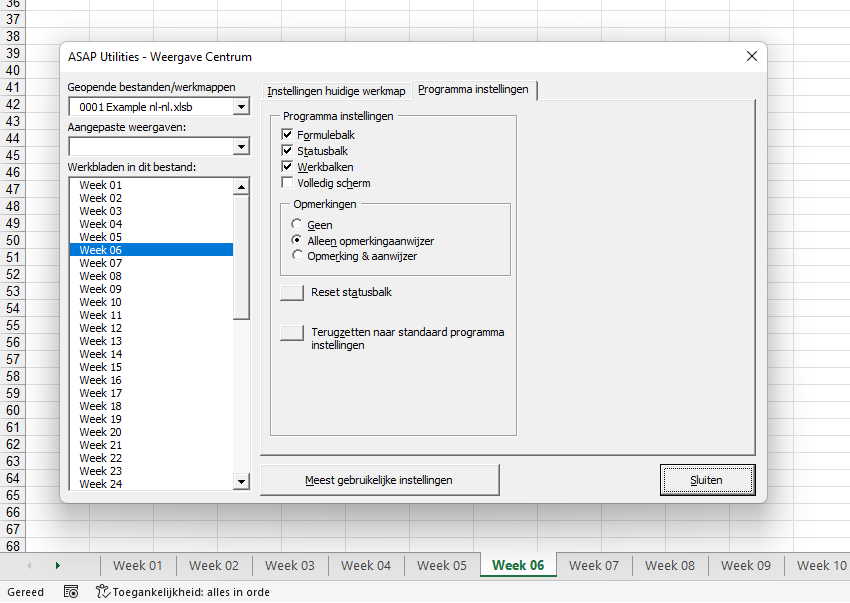 Deze tool starten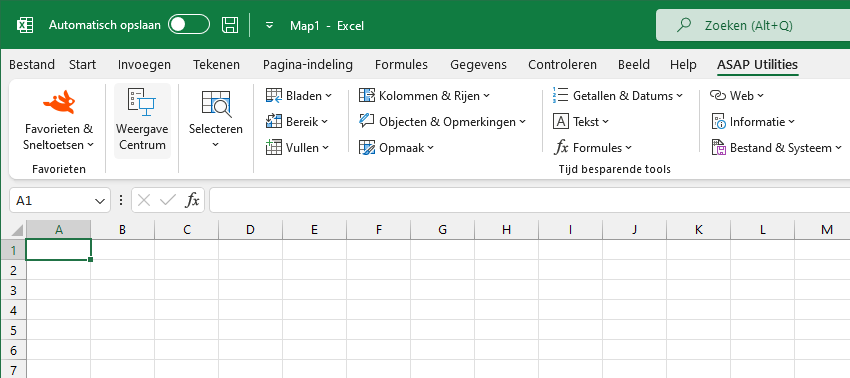 Additional keywords for this tool:
tabs