Display the country settings of your computer
English (us) ⁄ Nederlands ⁄ Deutsch ⁄ Español ⁄ Français ⁄ Português do Brasil ⁄ Italiano ⁄ Русский ⁄ 中文(简体) ⁄ 日本語
Information › 20. Display the country settings of your computer
This utility will display a few of the country settings from your computer.

The utility shows you the following settings that your computer uses:

the decimal separator;

the thousand separator;

the date separator;

the order in which the dates are shown (for example day-month-year or month-day-year, etc.)

We have created this utility so you can quickly view this information because it is sometimes difficult to quickly find this information on a computer where these settings are blocked by the IT department.
Screenshots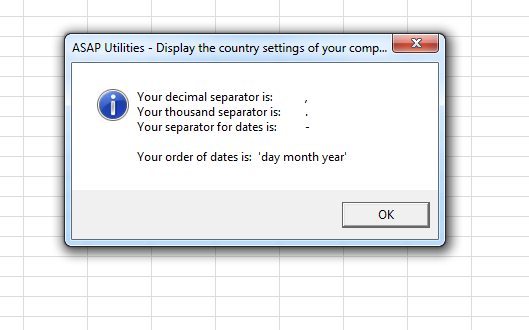 Starting this tool