Teken papier...
English (us) ⁄ Nederlands ⁄ Deutsch ⁄ Español ⁄ Français ⁄ Português do Brasil ⁄ Italiano ⁄ Русский ⁄ 中文(简体) ⁄ 日本語

Opmaak › 9. Teken papier...
Met deze tool kunt u de kolombreedte en rijhoogte van de cellen instellen in centimeters, inches of pixels.
Dit is handig als u Excel gebruikt om te tekenen, zoals het maken van een stroomschema (flowchart) of wanneer u uw tuin ontwerpt of een plattegrond maakt.
U kunt ook eenvoudig vierkante cellen maken met deze tool.

Opmerking:
Door beperkingen in hoe precies de breedte en hoogte in Excel kan worden ingesteld kan de daadwerkelijke breedte en hoogte een tiende van een centimeter/inch afwijken.
De grootte in pixels is afhankelijk van uw DPI-instelling in de Windows weergave instellingen voor uw beeldscherm.
Screenshots
Voorbeeld screenshot: 1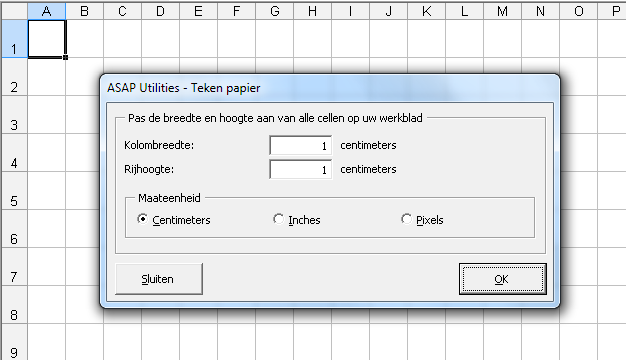 Voorbeeld screenshot: 2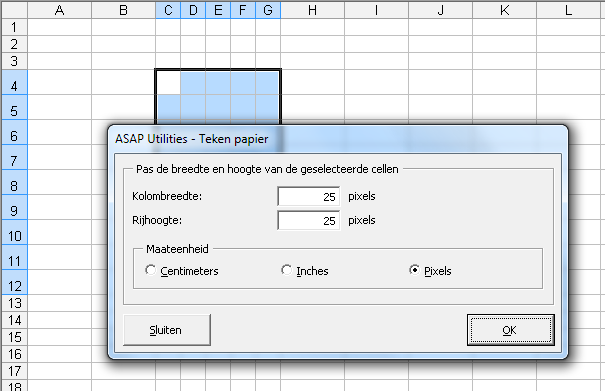 Deze tool starten