What's new on ASAP Utilities
We'll keep you updated about new releases of ASAP Utilities. If you want to receive an email as soon as a new version is released, then subscribe to our newsletter. The news is also available as an rss-feed

---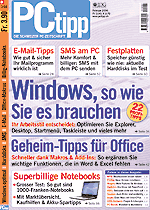 In the february 2006 edition of the Swiss magazine PC tipp and article described several add-ins for MS Office: "Office aufgemotzt".

We are proud (very proud!) to see a full page was dedicated to ASAP Utilities. Several of the most used utilities were described.

Their conclusion: "Kurz: Wenns in Excel etwas gibt, das Sie nervt, st?bern Sie doch mal in den ASAP-Men?s. Fast w?rden wir wetten, dass dort die L?sung f?r Ihr Problem drinsteckt.". Which is someway in English: "In short: When something is bothering in Excel for, take the time to look in the ASAP Utilities menu. We're almost certain the solution for your problem is there."

The full article is available on their website:
www.pctipp.ch
www.pctipp.ch/archiv/archivj.asp?yy=2006&ii=02

For those new to ASAP Utilities we higly recommend the User Guide, especially chapter 6 which lists comment problems and a description how ASAP Utilities can easily help you to solve these problems.
---
Today I have published a new version of the User Guide. This new version (0.5) has some additions and corrections. It also covers new utilities that are available in the new ASAP Utilities 3.11.
A new beta version of the 3.11 can be downloaded from my weblog:
www.asap-utilities.com/blog/
I recommend the new beta version to everybody who has at least Excel 2000.
---
We make you the company's excel guru!

ASAP Utilities is a free and easy to use Add-In for MS Excel 97, 2000, 2002, XP and 2003. The utility contains over 300 functions to make your work easier and faster done.

Version 3.10b is compatible with Excel 97 and all future Excel versions. It does not require any special (administrator) rights. If you have Excel 2000 or later and you do have administrator rights we recommend you to try the new version 3.11 also available from our website. That new version is faster and has some nice additions, but it also has a few more demands from your system and is at this moment still a beta-version.

My thanks goes out to each and every one of you for your suggestions and bug-reports the past year. ASAP Utilities continues to grow and improve thanks to your support, your suggestions and your encouragement.

ASAP Utilities is (as always) free and contains no spyware!

Kind regards,
Bastien Mensink
ASAP Utilities
« previous
1
2
3
4
5
6
7
8
9
10
11
12
13
14
15
16
17
18
19
20
21
22
23
24
25
26
next »