What's new on ASAP Utilities
We'll keep you updated about new releases of ASAP Utilities. If you want to receive an email as soon as a new version is released, then subscribe to our newsletter. The news is also available as an rss-feed

---
September 2, 2008

In april 2008 the website VitaminCM published a series of articles "Getting the Most Out of Your Applications". In part 6, ASAP Utilities was reviewed.
---
May 29, 2008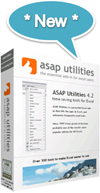 We are delighted to bring you the new version of ASAP Utilities. Version 4.2.5 has just been released and includes several improvements.
I would like to thank everybody for their feedback the past months!
Read the May 29 newsletter:
New ASAP Utilities version 4.2.5 released!
---
Februari 19, 2008

The new version of ASAP Utilities, 4.2.3 February 19th 2008, has just been released.
Download ASAP Utilities, 4.2.3 February 19th 2008
Most of the updates in this new version are bug-related. A few bugs reported after the recent release of version 4.2.2. have been solved in this new version. Furthermore a few (minor) improvements have been made.
Many thanks to everyone who has contributed their feedback!
---
Februari 14, 2008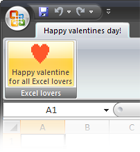 At this moment there are a few known bugs in version 4.2.2. These have been fixed in version 4.2.3 which I'm currently developing and of which you can download a pre-release. This new version is schedule to be released officially next week.
For everyone out there that uses an loves Excel:
Happy valentine's day!
---
November 21, 2007

In November ASAP Utilities 4.2.1 was reviewed by ZD Net (Netherlands and Belgium) by Rowald Pruyn. ZDNet.be and ZDNet.nl are two of the best visited and appreciated ICT-websites in Belgium and The Netherlands.
« previous
1
2
3
4
5
6
7
8
9
10
11
12
next »